JBL BRX300 Series Portable Line Array System Demo and Training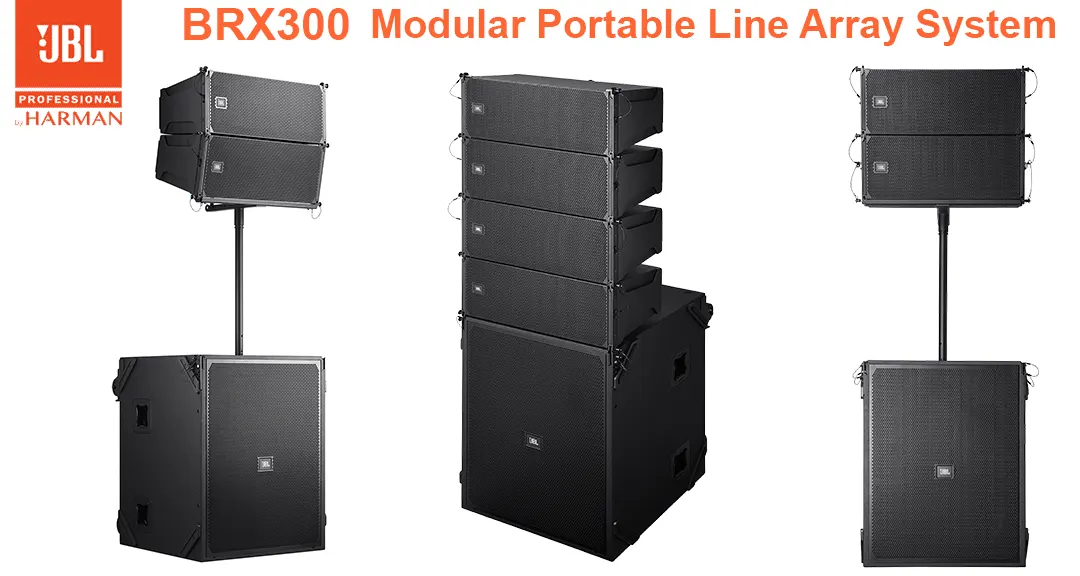 The JBL BRX300 Series is a versatile line array for bands, DJs, rental firms, houses of worship and anyone who needs a compact, portable system that provides superior fidelity, high output and consistent coverage in a range of sound reinforcement scenarios.
The modular BRX300 Series makes the power of line array technology accessible to customers who are not trained audio engineers, thanks to its plug-and-play simplicity, built-in corrective signal processing, smart transport system and hassle free rigging hardware. Deploy in minutes and enjoy optimal sound out of the box with components engineered for fidelity and ease of use:
Systems are available in minimum one-subwoofer / two-top or one-subwoofer / four-top configurations and can be stacked, pole mounted or hung to provide seamless coverage in a range of applications.
For decades, the world's top entertainment venues and touring productions have relied on the superior power and clarity of JBL Professional line array technology; now it's easier than ever to bring that legendary sonic performance to small and mid-size productions.
Annabhau Sathe Smarak, Swami Vivekananda Statue, Sangam Society, Padmavati Nagar, Pune - 411037
JBL BRX300 Product Details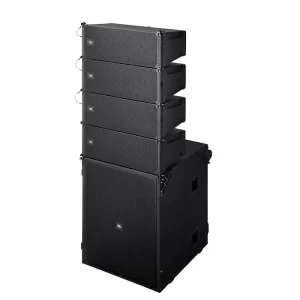 Legendary JBL Tour Sound
The BRX308-LA Line Array Element and BRX325SP Powered Subwoofer draw from JBL's legendary touring technologies to deliver wide coverage and class-leading SPLs while reproducing every sonic detail with superior depth and clarity, thanks to proprietary drivers that are engineered for maximum performance matched with the built-in amplifier.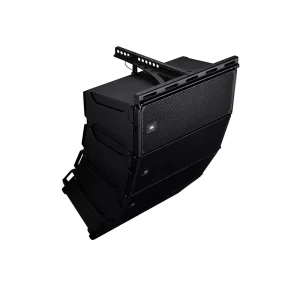 Throw That Goes the Distance Line array technology delivers seamless front-to-back coverage for a consistent sonic experience anywhere in the audience. BRX308-LA Line Array Elements provide ultra-wide 110° horizontal dispersion and 12° vertical dispersion; multiple boxes can be arrayed to optimize coverage.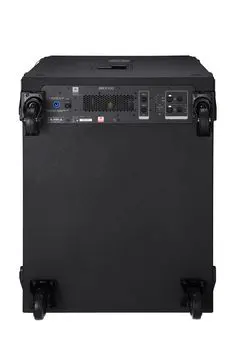 Power That Packs a Punch You don't need to sacrifice power for size: BRX308-LA Line Array Elements put out 136 dB SPL; the BRX325SP Powered Subwoofer delivers 136 dB SPL and offers six channels of built-in amplification—the highest channel count in its class—effortlessly powering up to four BRX308-LA Line Array Elements.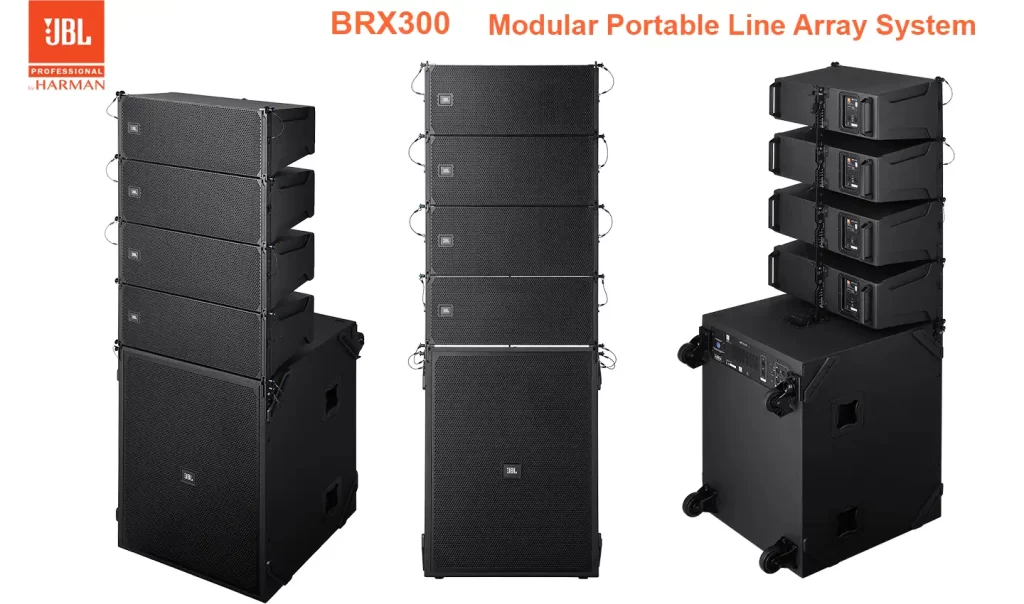 Versatile, Variable Coverage
The BRX300 Series can scale to accommodate any small or midsize application including live music events, receptions, corporate functions and house-of-worship services. Systems can be configured three ways:
One subwoofer and two tops, stacked or pole mounted
One subwoofer and four tops, stacked
Flown system with eight tops and two ground-stacked subwoofers
Take the Guesswork Out of System Setup
The BRX300 Series delivers performance you can count on, right out of the box. Sophisticated internal processing handles crossover management, EQ, limiting, correction filters, phase processing and driver protection, so you can focus less on system calibration and more on your mix.
Self-Powered and Streamlined
With the BRX300 Series, system deployment is fast and easy, without the hassle of amp racks, long cable runs or crossover calibration. The BRX308-ACC adds a vertical transport cart with casters and a lid to store and transport up to 4 x BRX308-LAs and includes padded covers for the BRX308-ACC Transporter Kit and Subwoofer to keep components safe during transit. BRX enclosures are equipped with convenient captive rigging points to fasten system components in place when ground stacked, pole mounted with the BRX308-PM Pole Mount and Adapter or in  flown applications when used with the BRX308-AF Array Frame. No matter your configuration, you'll be able to set up quickly and safely and get right back to focusing on your show.
Rugged Construction
The BRX300 Series' rugged, tour-tested cabinet designs feature all-wood construction with a Duraflex coating that protects against wear and tear.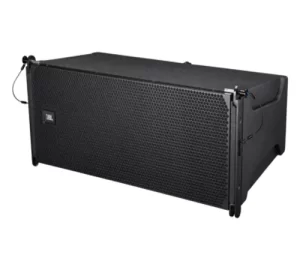 BRX308-LA 
Line Array Element scales JBL's legendary touring technologies to a compact, double 8-inch loudspeaker offering class-leading output and coverage.
Dual 8-inch LF drivers and 3-inch titanium compression driver
Frequency range: 80 Hz–20 kHz (-10 dB)
110° horizontal x 12° (variable) vertical dispersion
136 dB maximum SPL
Variable interbox angles
I/O: two 4-pole NL4 connectors wired in parallel for IN/THRU use
Dimensions (W x H x D): 662 x 299 x 376 mm (26 x 11.8 x 14.8 inches)
Weight: 20.5 kg (45.2 pounds)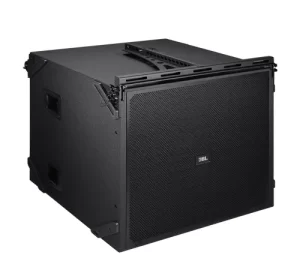 BRX325-SP 
Powered Subwoofer extends low-frequency energy with dual 15-inch drivers, sophisticated DSP and built-in 6-channel amplification for powering up to four BRX308-LA Line Array Elements.
Dual 15-inch woofers
Frequency range: 32 Hz–250 Hz (-10 dB)
136 dB maximum SPL
Built-in DSP includes crossover management, EQ, limiting, correction filters, phase-corrected processing and driver-protection circuitry
Integrated 1,000 watt-per-channel, 6-channel amplifier offers the most channels in its class
Powers up to four BRX308-LA Line Array Elements
Input: two balanced XLR-F wired in parallel to XLR-M for THRU outputs
Output: two 4-pole NL4 connectors for powering up to four tops
Power input: 20A powerCON/230 VAC only
Dual inputs with Input Y mode allow a single input for the subwoofer and tops or dedicated inputs for more advanced uses
Casters provide ease of transport
Dimensions: 680 x 890 x 693 mm (26.7 x 35 x 27.3 inches) without caster wheels
Weight: 86 kg (190 pounds)
Power cable options for China, India and APAC regions
BRX308-ACC 
Transport Kit provides a self-contained transport system for four BRX308-LA Line Array Elements and includes padded covers for the cart, BRX3255 Powered Subwoofer and required speaker cables.
BRX308-AF 
Array Frame supports one BRX325SP Powered Subwoofer or up to eight BRX308-LA Line Array Elements in flown configuration.
Suspends up to eight BRX308-LA Line Array Units or one BRX325SP Powered Subwoofer
Tested for a safety factor of 4:1
Rolling cart transports up to four BRX308-LA Line Array Elements
Water-resistant protective padded covers for BRX308-LA Line Array Elements and BRX325SP subwoofer
4 speaker cables: 2 cables to link BRX308LA and 2 cables of custom lengths for ground-stacked and pole-mount options
BRX308-PM 
Pole Mount and Adapter Kit expands system configuration options.
Pole mount and adapter allow mounting of up to two BRX308-LA Line Array Elements