Zoom H8 Portable Handy Recorder
Stereo Microphones, 6 Inputs, Touchscreen Interface, USB Audio Interface, Battery Powered, for Stereo/Multitrack Audio for Video, Podcasting, and Music
The Zoom H8 Portable Handy Recorder. The Zoom H8 8 track Handy Recorder with touchscreen applications for Podcasting, Music and Field Recording. H8 comes with 12-track simultaneous recording and Zoom XYH-6 microphone. This capsule provides two matched high-quality unidirectional mics, for capturing signal directly in front of the recorder. With the Zoom mic capsule system you can easily swap capsules to ensure you're always using the right mic for the job. Zoom's Capsule System 2.0 allows up to 4 channels of audio to be added to the H8's capsule connection, creating new ways to expand your recording capabilities.
H8 Features:
Customized applications for field recording, music and podcasting
3 distinct interfaces for field recording, music and podcasting
Interchangeable input capsules
12-track simultaneous recording
Four mic inputs and two XLR/TRS combo connectors
Gain control knobs and -20dB pads for each input
Supplied XYH-6 X/Y capsule provides secondary input via a stereo ⅛" Mic/Line In mini phone jack
Phantom power for all six XLR mic inputs: +24/+48V
Large color LCD touchscreen display
Records directly to SD, SDHC and SDXC cards up to 512GB
Up to 24-bit /96kHz audio in BWF-compliant WAV or a variety of MP3 formats
Auto-record, Pre-record and Backup-record functions mean that you'll never miss that perfect take
Built-in effects, including low-cut filtering, compression, and limiting
Multichannel and stereo USB audio interface for PC/Mac/iPad
Accepts standard AA alkaline or NiMH rechargeable batteries
Over 10 hours of operation with 4 AA alkaline batteries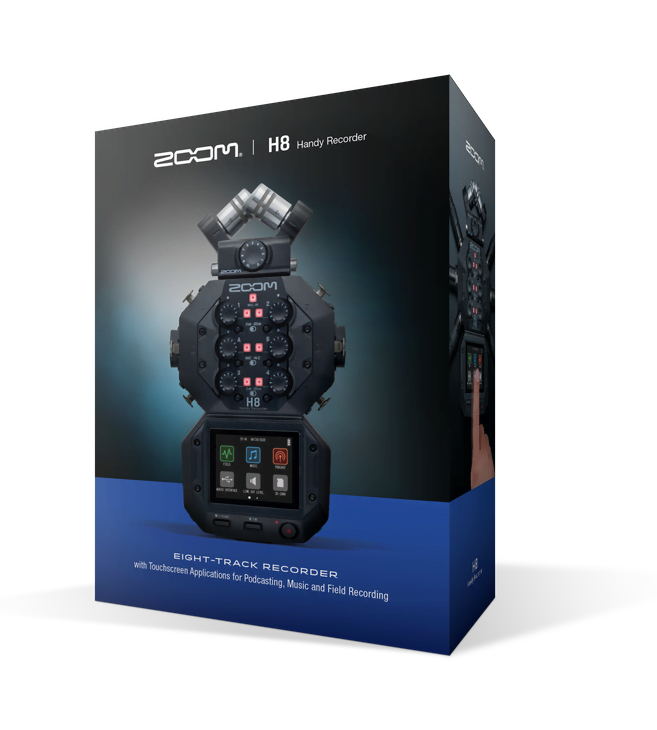 WHAT'S IN THE BOX
HERE IS WHAT COMES INCLUDED IN THE PACKAGE:
H8 Handy Recorder
XYH-6 X/Y Mic Capsule
AA Batteries (x4)
Quick Guide
Brand
Zoom
Model
H8
Type
8 Channel handy recorder
NUMBER OF INPUT CHANNELS
8 (XY mic capsule, 1-4, A, B)
NUMBER OF OUTPUT CHANNELS
2 (stereo headphone and stereo line)
Connectors
MIC IN
ZOOM mic connector
INPUT 1-4
XLR jacks (2: HOT)
INPUT A/B
XLR/TRS combo jacks (XLR: 2 hot, TRS: TIP hot)
USB
USB Micro-B(audio interface, mass storage and Guitar Lab connection functions)Note: Use a USB cable that supports data transfer.Operation using USB bus power is possible.
REMOTE
ZOOM BTA-1 or other dedicated wireless adapter
LINE OUT
3.5 mm stereo mini
PHONE OUT
3.5 mm stereo mini
PHANTOM POWER
+24 V/+48 V (independent ON/OFF for INPUTS 1–4, A and B)
Recorder
RECORDING MEDIA
Cards that support SD/SDHC/SDXC specifications
FORMATS
WAV: 44.1/48/96 kHz, 16/24-bit, mono/stereoMP3: 128, 192, 320 kbps
MAXIMUM SIMULTANEOUS RECORDINGTRACKS
12 (MIC IN, backup recording, 1-4, A, B, and LR)
Audio Interface
MULTITRACK MODE
44.1/48/96 kHz, 16/24-bit, 12-in/2-out
STEREO MIX MODE
44.1/48 kHz, 24-bit, 2-in/2-out
TUNER
Chromatic/Guitar/Bass/Open A/Open D/Open E/Open G/DADGAD
BUILT-IN SPEAKER
400 mW 8Ω mono speaker
DISPLAY
2.4" (320×240) full-color touchscreen LCD
POWER
4 AA batteries (alkaline, NiMH or lithium)AC adapter (ZOOM AD-17): DC 5 V/1AUSB bus power
Using XY mic, 44.1 kHz/24-bit (stereo × 1): about 10:00. The above values are approximate. Continuous battery operation times were determined using in-house testing methods. They will vary greatly according to use conditions.
EXTERNAL DIMENSIONS H8
116.4 mm (W) × 163.3 mm (D) × 48.6 mm (H)
XYH-6
78.9 mm (W) × 60.2 mm (D) × 45.2 mm (H)
WEIGHT H8
354 g XYH-6: 130 g
Note: When using a USB cable designed for recharging, audio interface, SD card reader and Guitar Lab connection functions cannot be used.