The Boss DD-8 Digital Delay is most advanced Boss compact series delay ever. Introducing the DD-8, the most wide-ranging and feature-rich BOSS compact series delay ever. This loaded pedal delivers more of everything—more great sounds, more delay time, more control options, and more connectivity. And it does it all in a standard BOSS pedal that slides easily into any mono or stereo setup. Eleven modes provide delay colors from basic to exotic, plus a looper with unlimited overdub capability and external control support. For maximum versatility in a minimum amount of space, there's no better delay stomp than the DD-8.
Features:
The most advanced BOSS compact series delay ever
Eleven versatile modes include basic digital delay, vintage echoes, shimmer, mod, looper, and more
Looper offers up to 40 seconds of recording time, overdub capability, and three-pedal operation with external footswitches
Three newly developed delay types: Warm, +RV (delay+reverb), and GLT (rhythmic delay)
Up to 10 seconds of delay time available with tap tempo input
Carryover switch sets whether delay trails continue or stop when the effect is bypassed
True stereo I/O and three selectable output modes (independent, panning, and wide stereo)
Smart I/O jacks support a variety of connection setups (mono, stereo, wet/dry, wet only, and more)
Support for external control with two footswitches or an expression pedal
Unique Twist function available in each delay mode via an external footswitch
BOSS five-year warranty*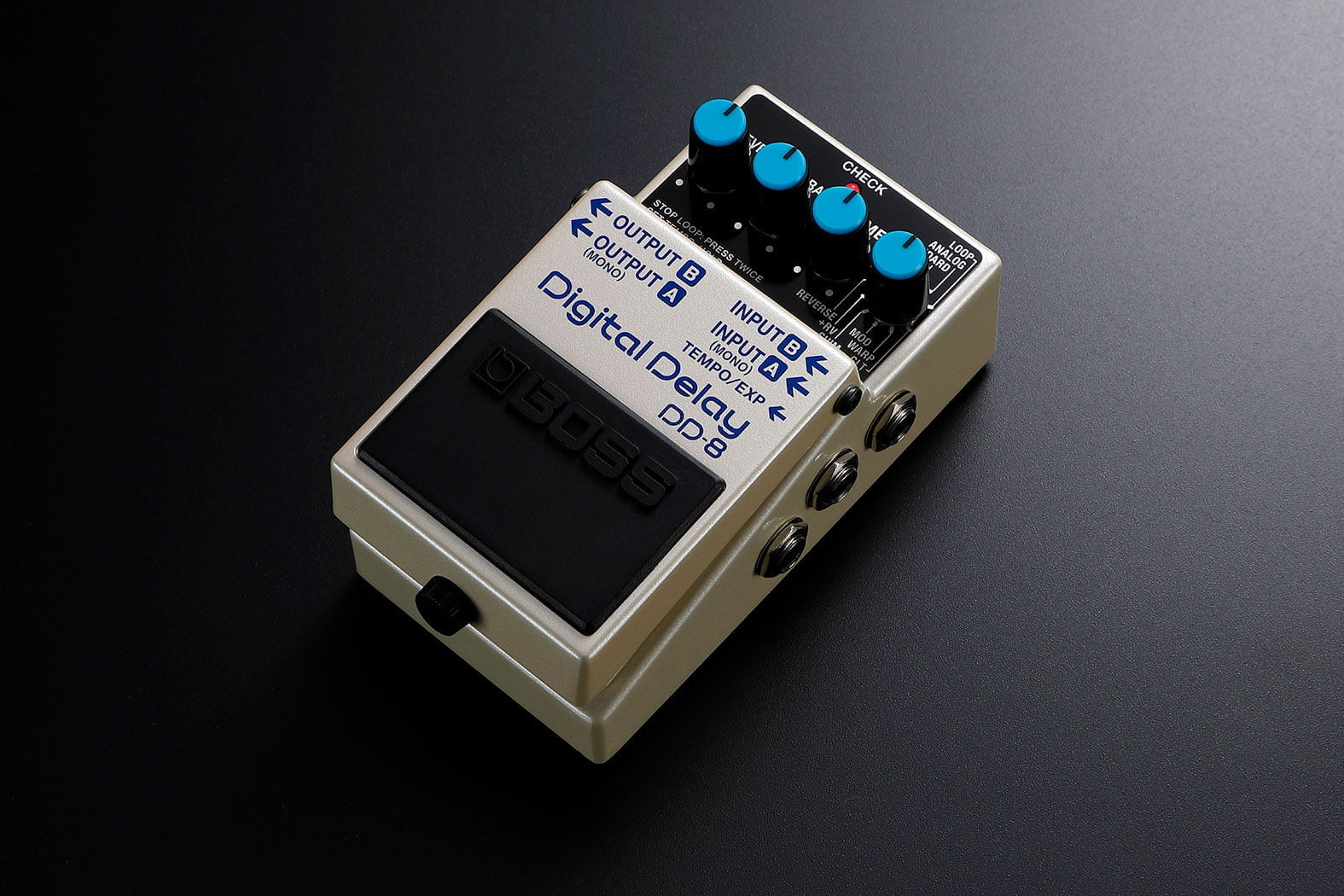 DD-8 Delay Modes
• Analog—Classic analog BBD delay sound.
• Standard—Clear digital delay.
• Tape—Vintage tape-based delay sound.
• Warm—Digital delay with a softer sound.
• Reverse—Backwards delay for cool psychedelic effects and other unique tones.
• +RV—Digital delay with reverb added.
• Shimmer—Pitch-shifted delay for lush, shimmering textures.
• Mod—Digital delay with modulation added on the repeats.
• Warp—Unique delay with expressive pedal control. Holding the pedal switch increases feedback and level, allowing you to create ambient swell effects.
• GLT—Newly developed delay mode that creates glitchy machine-gun effects when the pedal switch is pressed. Adjust the Feedback and Time knobs for a wide variety of sounds.
• Loop—Loop recorder with overdub capability and up to 40 seconds of recording time with mono input (20 seconds with stereo input).
Express Yourself
The DD-8's extensive real-time delay options help bring your music to life. You can tap in tempos with the onboard pedal switch, and control the Warp and GLT modes for unique expressive effects. Adding one or two footswitches unlocks more creative possibilities, like on-demand tap tempo, extended looper control, and a cool Twist effect for soaring echo sounds. Alternately, an expression pedal can be used for continuous control of level, feedback, or delay time—or all of them at once.
Amazing Versatility
Equipped with a diverse selection of delays, the DD-8 packs impressive sonic range into one small pedal. Clean digital delays, vintage analog and tape types, and modulation echo are available, plus specialty delays like shimmer and reverse. There's a new Warm type for softer echo tones, and a +RV type that blends delay and reverb together. Warp is perfect for dynamic ambient textures, while the new GLT type is great for glitchy rhythmic effects.
Stereo to the Max
Everything sounds bigger and better in stereo, and the DD-8 delivers with full stereo I/O support and your choice of three output modes. The default independent mode provides linked parallel delays on the left and right channels, allowing you to maintain the true balance of stereo input sources in the effect sound. There's also a panning mode for ping-pong delay effects, and a wide stereo mode for enhanced spatial depth.
Built-In Looper
Having a looper on your pedalboard is a handy thing—it's great for practice, checking sounds at gigs, and creating on-the-fly backing while performing. The DD-8's looper mode has you covered, so you don't have to take up precious space with a dedicated pedal. All looper functions can be controlled with the onboard switch, providing all-in-one operation. But if you prefer to work with extended controls, just connect one or two footswitches to operate the looper's stop and clear functions externally.
Smart I/O for Easy Setup
The DD-8's inputs and outputs have smart functionality, allowing you to set the pedal for any application simply by connecting cables in different ways. A variety of mono and stereo connections are supported, including discrete dry and effect outputs for wet/dry setups. It's even possible to defeat the dry signal entirely, perfect for delay-only blending in a parallel effects loop.
Brand
Boss
Model
DD-8
Type
Digital Delay (Guitar Effects)
Nominal Input Level
-20 dBu
Input Impedance
1 M ohm
Nominal Output Level
-20 dBu
Output Impedance
1 k ohm
Recommended Load Impedance
10 k ohms or greater
Bypass
Buffered bypass
Controls

MODE knob
TIME knob,
FEEDBACK knob
E.LEVEL(Effect Level) knob
CARRYOVER switch
Pedal switch

Indicator
CHECK indicator (Used for indication of check battery)
Connectors
INPUT-A(MONO)/INPUT-B jack: 1/4-inch phone type
OUTPUT-A(MONO)/OUTPUT-B jack: 1/4-inch phone type
TEMPO/EXP jack: TRS 1/4-inch phone type
DC IN jack
Power Supply
Alkaline battery (9 V, 6LR61)
AC adaptor (PSA series: sold separately)
Current Draw
100 mA
Expected battery life under continuous use
Alkaline: Approx. 3.5 hours (*These figures will vary depending on the actual conditions of use.)
Accessories
Leaflet ("USING THE UNIT SAFELY," "IMPORTANT NOTES," and "Information")
Dry battery (9 V, 6LR61)
Options (sold separately)
AC adaptor: PSA series
Footswitch: FS-5U, FS-6, FS-7
Expression pedal: FV-500H, FV-500L, EV-30, Roland EV-5
SIZE AND WEIGHT
Width
73 mm (2-7/8 inches)
Depth
129 mm (5-1/8 inches)
Height
59 mm (2-3/8 inches)
Weight (including battery)
440 g