VirtualDJ FEATURES
INDUSTRY LEADING FEATURE SET
VirtualDJ delivers more features than any other software. The latest groundbreaking technology is always available in VirtualDJ first! With VirtualDJ you're guaranteed to be ahead of the curve with the latest high-tech and innovative features
Although VirtualDJ is packed with features, it is still easy to learn. You can start with the basics and advance as you learn more. VirtualDJ is well suited for both the amateur starter, or the seasoned professional DJ and comes with all the features you'll ever need. With VirtualDJ you can turn any event into a total success! Whether it's scratch performance and video mixing, or from bedroom broadcast to upscale wedding events.
VirtualDJ lets you do more!. Unleash your creative potential…
Scroll down to learn more about some of the key features of VirtualDJ.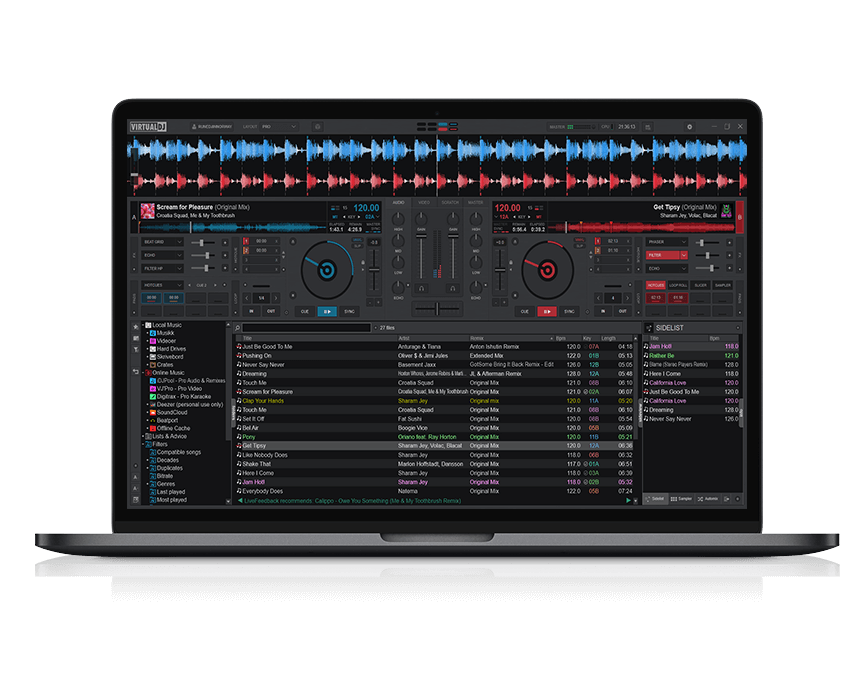 CUTTING-EDGE FEATURES!
YOU CAN DO MORE!
STAND-ALONE DJ MIXER
VirtualDJ lets you start mixing as a DJ right away, with just your computer. To practice & learn, or prepare sets & playlists. VirtualDJ works for for every type of DJ, with or without hardware.
FOR ANY TYPE OF SETUP
Works with the most popular controllers and mixers on the market with plug & play auto detection and setup. With VirtualDJ the choice of hardware is all yours.

VIDEO & AUDIO MIXING
 VirtualDJ supports a multitude of audio-, video- and karaoke formats. Entertain your guests with stunning visuals, video mixing or host karaoke events.
REAL-TIME AUDIO SEPARATION
VirtualDJ 2021 revolutionize what DJs can do. With real-time stem separation on any track (vocals, instruments, kicks, hihats, etc) for perfect live mashups and seamless transitions.

The Pioneer DJ DDJ-1000 performance DJ controller is now officially compatible with VirtualDJ 2021, a DJ application from Atomix Productions.
By connecting the DDJ-1000 via a USB cable to a PC/Mac running VirtualDJ 2021, you can control Hot Cues, Effects, and more using the controller's club-style interface while keeping an eye on important information such as playback time and waveforms on the Color On Jog Displays.
PIONEER now officially supports VirtualDJ 2021
#1 MOST POPULAR DJ SOFTWARE
VirtualDJ has been around for more than 20 years, and has been downloaded by more than 126,000,000 people, making VirtualDJ the most downloaded DJ software on earth! It is used daily by millions of professional DJs all around the world.
Filled with all the latest technology, VirtualDJ will help you take your DJing skills to the next level. 
[dipl_blog_slider slider_layout="layout2″ featured_image_size="medium" excerpt_length="20″ show_author="off" show_date="off" show_categories="off" post_per_slide_tablet="2″ post_per_slide_phone="1″ _builder_version="4.8.1″ _module_preset="default" title_text_color="#FFFFFF" title_font_size="16px" title_font_size_tablet="" title_font_size_phone="15px" title_font_size_last_edited="on|phone" global_colors_info="{}"][/dipl_blog_slider]